Round The Fire is all about Hunting, Wildlife & Conservation here in beautiful South Africa. We chat with past and future clients of Kingsview Safaris plus industry role players to give you the listener the inside scoop on what it is like coming on a hunting safari here in South Africa.There will even be a couple cool episodes where we sit round a fire after a long day hunting and just let the stories flow. Enjoy and thanks for listening!!
Episodes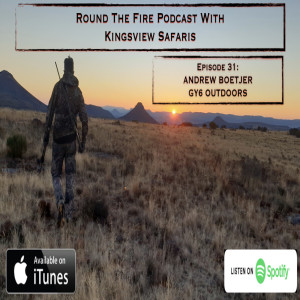 Friday Apr 15, 2022
Friday Apr 15, 2022
After an action packed hunting safari, myself and Andrew sat round the fire at camp and reflected on his hunt.
We shared insights into the hunting industry as a whole, talk about the benefits of hunting, breakdown each one of his hunts and share some good laughs.
Enjoy it!